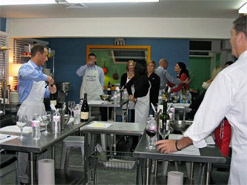 You will eat what you make, so bring your appetite!
AMG is also available for private group cooking classes.
What To Expect: Great cooking isn't about recipes—it's about techniques. In our classes you'll work together with other students in a fun, hands-on environment led by our professional chef instructors.
Classes are 2 hours
Hands-on classes are limited to 16 students
You will be standing, cooking and working for most of the class
Please wear comfortable, closed-toe shoes and have long hair tied back
You will enjoy a generous taste of every dish
Cancellation: Tuition is non-refundable. However, if you cancel at least 1 week in advance of the class date, you may use your reservation towards one of our future classes within one year of the original class. Or send a friend in your place and receive the recipes booklet to bring home. AMG Catering reserves the right to cancel class. In the event that the attendance is 4 students or less , we reserve the right to cancel the class and offer you credit or to choose another class. You will be notified via email or phone. Photos from class may be used for promotional purposes.
FALL 2023 CLASS SCHEDULE
#1 – AUTUMN GRILLING CLASS – $110
Thursday September 21, 7-9pm
Autumn is the best time to grill- join us and we will grill the night away
Grilled Autumn veggies with sage brown butter bean dip
Maple-rosemary Grilled chicken thighs
Grilled pumpkin bbq glazed pork chops
#2 – OKTOBERFEST CLASS – $110
Thursday , September 28, 7-9 pm
Grab your favorite German beers and join is for a night of delicious German treats
Handmade soft pretzels with Beer-cheese dip
Pork/chicken"schnitzel" with beer braised cabbage
Apple "strudel"
THIS CLASS NOW SOLD OUT
#3 – SUSHI and DUMPLING CLASS – $125
Wednesday, October 4, 7-9 pm
"Roll" the night away and learn how to make perfect dumplings too!!
#4 – Fall Fish and Veggie Cooking Class – $125
Wednesday, OCTOBER 18, 7-9 pm
Learn the secrets of cooking fish at home
Maple-mustard salmon with roasted fall veggies
Seared scallops with shaved "brussel" salad
Steamed mussels with apples and bacon
#5 – Simple, Seasonal Suppers – $110
WEDNESDAY, OCTOBER 25, 7-9 pm
Spinach and artichoke stuffed spaghetti squash
Cranberry-balsamic chicken
Sticky honey garlic shrimp with sweet potatoes
#6 – DIA DE LOS MUERTOS (Day of the dead- healthy Mexican class) – $110
WEDNESDAY, NOVEMBER 1, 7-9 pm
Learn how to make a pumpkin spice margarita
Cabbage enchiladas
Turkey taco lettuce "wraps"
Burrito zucchini "boats"
#7 – HOLIDAY "SMALL PLATES/APPETIZERS" – $110
WEDNESDAY, NOVEMBER 8, 7-9 pm
You will be greeted with cranberry Jell-O shots
Cheesy sausage cocktail "toasts"
Bacon wrapped sweet potato bites with balsamic glaze
Crabcake stuffed mushrooms
THIS CLASS NOW SOLD OUT
#8 – HOLIDAY "SIDE DISHES" – $110
WEDNESDAY, NOVEMBER 15, 7-9 pm
Tired of your ordinary holiday side dishes? Join us and update your recipe "repertoire"
Roasted cauliflower and Tahini salad
Bacon, brussel sprout and green bean "gratin"
Hot honey sweet potatoes