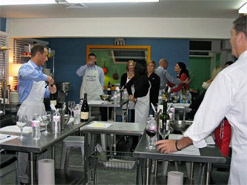 You will eat what you make, so bring your appetite!
AMG is also available for private group cooking classes.
What To Expect: Great cooking isn't about recipes—it's about techniques. In our classes you'll work together with other students in a fun, hands-on environment led by our professional chef instructors.
Classes are 2 hours
Hands-on classes are limited to 16 students
You will be standing, cooking and working for most of the class
Please wear comfortable, closed-toe shoes and have long hair tied back
You will enjoy a generous taste of every dish
Cancellation: Tuition is non-refundable. However, if you cancel at least 1 week in advance of the class date, you may use your reservation towards one of our future classes within one year of the original class. Or send a friend in your place and receive the recipes booklet to bring home. AMG Catering reserves the right to cancel class. In the event that the attendance is 4 students or less , we reserve the right to cancel the class and offer you credit or to choose another class. You will be notified via email or phone. Photos from class may be used for promotional purposes.
SPRING 2023 CLASS SCHEDULE
#1 – THIRTY MINUTE MEALS THE WHOLE FAMILY WILL LOVE

WEDNESDAY, MARCH 29 – $1107-9 pm
The "best" lemon chicken over veggie studded "orzo"
-Creamy spinach-artichoke roasted salmon
-Maple-mustard pork chops with roasted carrots
THIS CLASS IS NOW SOLD OUT
#2 – SPRING FISH COOKING CLASS
WEDNESDAY APRIL 5 – $110
7-9pm
Join us and learn to cook fish and seafood like the professionals…
Sesame crusted local "COD" with snap peas
Seafood risotto with shrimp, scallops, zucchini and lemon zest
Dijon-lemon salmon in paper "pouches"
THIS CLASS IS NOW SOLD OUT
#3 – SPRING SAUCE CLASS
WEDNESDAY, April 19 – $110
7-9pm
Your dish is only as good as its sauce – learn the shortcuts and chef tricks on great quick sauces
Arugula-lemon pesto ( paired with shrimp)
Chipolte-tahini sauce ( paired with chicken)
Romesco sauce ( paired with vegetables)
#4 – GRILLING CLASS – $110
WEDNESDAY, APRIL 26
7-9 pm
It's grillin' season- LET'S GO!!!
Grilled Hanger steak with chimichurri sauce
Korean Style" bbq ribs
Harissa grilled chicken
THIS CLASS IS NOW SOLD OUT
#5- CINCO DE MAYO COOKING CLASS
WEDNESDAY, May 3 – $98
7-9pm
We will begin this class with a spicy berry margarita
We will focus on healthier versions of traditional Mexican dishes
Avocado and Tomatillo Green Chile Salsa and Baked Flour Tortilla Chips
Mexican street corn salad
Tequila-lime chicken wings
THIS CLASS IS NOW SOLD OUT
#6 – MOTHER'S DAY CLASS (small plates from around the globe)
WEDNESDAY, MAY 10 – $98
Treat your favorite "mom" to a surprise Prosecco cocktail upon entry of this class and then we will focus on small plates from around the globe.
Thai meatballs
Patatas bravas with garlic aioli
SPANIKOPITA
#7 – BACKYARD "BITES"
WEDNESDAY, MAY 17 – $98
Summer is around the corner, and these "bites" are easy and sure to be a hit!!!
Crispy baked zucchini chips
Garlic-butter sundried tomato bruschetta
Buffalo shrimp with homemade blue cheese dressing