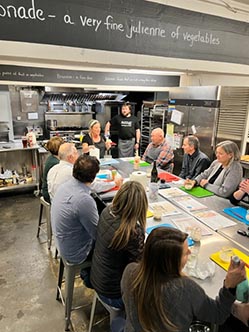 AMG Catering and Events has for many years offered private and group cooking lessons in the comfort of clients' homes, and now will provide the same exceptional instruction at its brand-new, state-of-the-art facility at 196 Danbury Road in Wilton, CT. (we are located in the back of the Hastings real estate building ( it is a red building with a silo ) If going north on rte. 33 the building is immediately after the Buick dealership on the right . If you get to the stop light. You have gone too far).
Chef Grace holds her Masters in Secondary Education from Fairfield University and has taught as a chef/instructor at Staples High School for eleven years.
In addition to working creatively with children of all ages, Chef Grace has conducted inspirational, practical, and downright fun adult cooking classes for over a decade through Continuing Education Programs in Westport, Wilton and Ridgefield. Working closely with her adult students, Chef Grace creates stimulating two-hour classes that focus on three to five dishes, depending on the difficulty of each recipe. Classes might revolve around on a theme (international, bite-sized appetizers), a protein (organic chicken cooked five ways), a meal (family-style Sunday supper), a holiday (Thanksgiving side dishes), a dietary restriction (low-fat soups), an ecological concern (sustainable fish entrees) or anything else you and Chef Grace might envision. Contact us now to book your next Girls' Night Out, Bridal Shower, Anniversary Cooking Class or Birthday Celebration.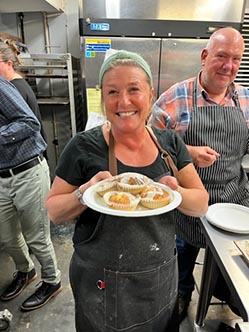 AMG Catering and Events is also very proud to present its new Corporate Team Building Series. Chef Grace can engage groups of up to 20 in a friendly but exciting, competitive but supportive "Food Network" atmosphere, modeling her instruction and activities on popular shows like "Chopped," and "Iron Chef." By forming teams and facilitating cooking contests, Chef Grace will enhance the team building experience by allowing employees to sharpen their focus, interact positively with one another, and collaborate successfully around making and eating food, the world's great equalizer.
Videos from Our Classes: