"The Experienced & Award-Winning Fairfield County Connecticut Wedding Caterer"
AMG Catering and Events has made wedding dreams come true for over 20 years, offering a unique service that joins full-service catering with event planning under the same roof. This collaboration provides our clients the comfort of knowing that the wedding planner and caterer are working in sync, paying careful attention to every detail. Our wedding coordinator's services allow the bride to sit back and relax, fully engaged in the joy of her special day. Bring us your wedding visions and we will bring your ideas to fruition, creating memories that last a lifetime.
In addition to backyard celebrations, AMG Catering and Events has relationships with many off-site venues where your wedding can be held. To see the list of venues, wedding cake bakers, photographers, floral designers, and party & tent rentals we work with, click the button below:
Wedding Planner/ Event Coordinator
AMG is Fairfield County's only "one stop shop" for catering and events. Offering a unique service that joins full-service catering with event planning under the same roof. Their philosophy is simple- their job is to facilitate your vision through their expertise.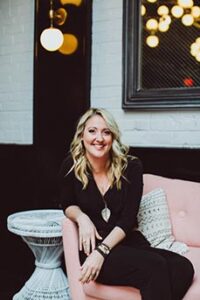 Lauren Kreter joined AMG as an Event Coordinator in 2022. Together, Lauren and Ali have planned weddings, corporate launches, Bar and Bat Mitzvahs, graduations as well as the most intimate of special events.
Lauren's event design started in 2007 when she helped grow Tim Labant & The Schoolhouse at Cannondale farm to table program. It is here that Lauren also got heavily involved with the Westport Farmers Market, ultimately joining the Board in 2012.
Client events include: Bridgewater, Cannondale Bikes, Greenwich Wine and Food, Jacques Pepin, FTC, The Levitt Pavilion Stars- On-Tour, Keith Richards, Pilobolous 5 Senses Festival, Ben Stiller, Puddin' Head, Operation Haus, Burberry NYC & Community Plates.
In 2011, Lauren also launched Borrowed, A Vintage Inspired Company that focuses on the upcycling of vintage wares to your table. Lauren's passion for seamless curated events gives her client's the ability to focus on other aspects of the event and knowing every detail is handcrafted and personal.
Lauren Kreter specializes in planning and designing personalized events from backyards to ballrooms. Lauren can be as involved as you want in the planning of your event. AMG offers "Full", "Partial" and "Day of" planning packages.
"Full" planning package
Includes meeting with all vendors, visiting venues for the event location and preparing the ceremony and reception sites. We handle every detail and issue that may arise before, during and after the event.
"Partial" planning package
The venue has already been set and vendors have been contractually booked. Anytime before the wedding AMG becomes acquainted with the vendors. We step in and become the liaison with vendors and complete all remaining planning tasks.
"The day of" planning package
This package is great when everything has been planned and is ready to go but you can't be in two places at once. We handle all day itineraries (photographer, band, DJ, flowers), final payments to vendors and any problem that may arise.
Day of Wedding Duties & Checklist:
-Site inspection for wedding and reception
-Check­ in Vendors; serve as point person
-Help with boutonnieres and corsages
-Keep track of marriage license, rings, ritual items
-Keep track of vendor gratuities
-Gathering/distributing ceremony items for the ceremony site
-Make sure decor for ceremony and reception is as requested
○ Tablescape
○ Favors
○ Placecards
○ Chair placement
○ Table placement
Direct event/keep to timeline○ First dance
○ Toasts
○ Cake cutting
○ Parent dances
-Assist with guest management
-Determine who is responsible for getting gifts/decor items/leftover liquor and wine (This is usually determined before the wedding day)
-Responsible for last minute changes