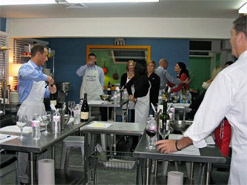 You will eat what you make, so bring your appetite!
AMG is also available for private group cooking classes.
What To Expect: Great cooking isn't about recipes—it's about techniques. In our classes you'll work together with other students in a fun, hands-on environment led by our professional chef instructors.
Classes are 2 hours
Hands-on classes are limited to 16 students
You will be standing, cooking and working for most of the class
Please wear comfortable, closed-toe shoes and have long hair tied back
You will enjoy a generous taste of every dish
Cancellation: Tuition is non-refundable. However, if you cancel at least 1 week in advance of the class date, you may use your reservation towards one of our future classes within one year of the original class. Or send a friend in your place and receive the recipes booklet to bring home. AMG Catering reserves the right to cancel class. In the event that the attendance is 4 students or less , we reserve the right to cancel the class and offer you credit or to choose another class. You will be notified via email or phone. Photos from class may be used for promotional purposes.
SPRING 2024 CLASS SCHEDULE
#1 – SPRING COCKTAIL PARTY
WEDNESDAY, April 3 – $110
7-9 pm
We will start this class with a delicious cocktail .." spicy strawberry blonde"
"Herby" baked falafel bites with mint-tahini dip
Asparagus alfredo "bites "
Whipped feta with balsamic roasted strawberries
Carrot cake "dip" for dessert
#2 – SPRING GRILLING CLASS
WEDNESDAY APRIL 24 – $110
7-9pm
It's grilling season- learn how to grill like a professional
Ginger-grilled chicken and radishes with miso-scallion dressing
Grilled jalapeno burgers with gorgonzola
Grilled rattatouille
#3 – CINCO de MAYO CLASS
WEDNESDAY, May 1- $110
7-9pm
We will start this class learning how to make a "Tequila Mockingbird" cocktail
Elote( Mexican street corn) "deconstructed"
Chicken empanadas
Chipolte shrimp taco "bowls"
#4 – MOTHER'S DAY COOKING CLASS – $125
WEDNESDAY, May 8
7-9 pm
"SMALL BITES"
Treat your favorite "mom" to a peach blini before class begins and then we will create beautiful
charcuterie/cheese boards
Steak "frites" on skewer with bernaise "aioli"
Smoked salmon "napoleon" bites
Peanut butter cup "trifle"
#5- SPRING SAUCE CLASS
WEDNESDAY, May 15 – $125
7-9pm
Your dish is only as good as your sauce…
Horseradish-dill sauce ( paired with filet Mignon)
Lemon-tahini sauce ( paired with roasted cauliflower steak)
Champagne-citrus beurre blanc sauce (paired with roasted salmon)
#6 – HIBACHI CLASS
WEDNESDAY, MAY 22 – $125
Join us on our outdoor grill and make a delicious hibachi style meal
Start with a chilled Sake grapefruit cocktail
Hibachi steak and shrimp with "yum yum" sauce
Hibachi style noodle