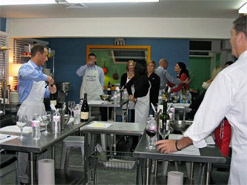 You will eat what you make, so bring your appetite!
AMG is also available for private group cooking classes.
What To Expect: Great cooking isn't about recipes—it's about techniques. In our classes you'll work together with other students in a fun, hands-on environment led by our professional chef instructors.
Classes are 2 hours
Hands-on classes are limited to 16 students
You will be standing, cooking and working for most of the class
Please wear comfortable, closed-toe shoes and have long hair tied back
You will enjoy a generous taste of every dish
Cancellation: Tuition is non-refundable. However, if you cancel at least 1 week in advance of the class date, you may use your reservation towards one of our future classes within one year of the original class. Or send a friend in your place and receive the recipes booklet to bring home. AMG Catering reserves the right to cancel class. In the event that the attendance is 4 students or less , we reserve the right to cancel the class and offer you credit or to choose another class. You will be notified via email or phone. Photos from class may be used for promotional purposes.
WINTER 2024 CLASS SCHEDULE
#1 – GLUTEN FREE COMFY-COZY in 30 minutes
Wednesday January 10, 2024 – $115 per person
7-9 pm
Stay cozy and warm with these winter dishes
Salmon with lentils, feta and mint
Baked fried chicken with garlic-Sriacha yogurt sauce
Creamy brussel sprout and shallot dip
#2 – ITALIAN WINTER DINNER PARTY
Wednesday January 24, 2024 – $125 per person
7-9pm
"Grab your favorite bottle of Italian red and join us…"
Homeade foccicia
Warm Castelfranco with Vincotto and Blu di Bufala
Sicilian style salmon with garlic mushrooms and spinach
Affogato for dessert
#3 – CHINESE NEW YEAR'S CLASS ( year of the dragon)
Wednesday February 7, 2024 – $125 per person
7-9pm
Learn some classic Chinese dishes
Ginger-pork potstickers
Chicken lettuce wraps
Coconut fried rice
THIS CLASS NOW SOLD OUT
#4 – VALENTINES COUPLES CLASS (for 2)
Wednesday February 14, 2024 – $300 per couple
7-9pm
"SURF and TURF"
Herb roasted lobster and steak
Crispy parmesan potatoes
Chocolate trifle with raspberries
#5 – BOOZY BRUNCH CLASS
Wednesday February 28, 2024 – $110 per person
7-9pm
We will start the class learning how to make "Pear Cobbler" cocktail
Tater Tot Breakfast pizza
Ultimate brunch salad with butternut squash, kale, pomegranate, apples, brussels and so much more
Cinnamon roll cake
#6 – TRIBUTE TO JULIA CHILD
Wednesday March 6, 2024 – $110 per person
7-9 pm
In honor of international women's day, we are celebrating Julia in this cooking class
(we will start with goldfish crackers and this was Julia's favorite appetizer)
"Quick" coq au vin
French Onion Soup
Tarte Tatin
#7 – ST. PATTY'S DAY CLASS
Wednesday March 13, 2024 – $125 per person
7-9 pm
Grab your Guinness and let's cook!!!
Reuben topped Irish nachos
Mini Shepherd's pie with made with Guinness
Bailey's Irish cream brownies
#8 – SPRING HAS SPRUNG!!!! … EASY WEEKNIGHT DINNERS
Wednesday March 20, 2024 – $110 per person
7-9 pm
Starting this class with a "Honeydew Mojito"
Salmon, asparagus and leek "pockets"
Inside-out pork dumplings
Penne with shrimp, feta and spring veggies